Anderson Bible Transcription
1955
Gallatin National Bank Ad - Info on Albert Gallatin & Glass
Connellsville (PA) Daily Courier, February 19, 1955

1972
News Article - Glass in the Mon Valley
Monessen (PA) Valley Independent, September 2, 1972

1975
William B Anderson and Mary Louisa Fischgens Anderson house (Wireton, PA) after restoration.

Daniel Garrison Boone
Executor's Notice, 1958

Frank Lemoyne Boone
Patent - Coal Washing Jig

George Fleming Boone
Biographical Information -
A Century and a Half of Pittsburg and Her People: Genealogical Memoirs of the Leading Families of Pittsburg and Vicinity, Volume IV
John W. Jordan, LL.D., 1908

Frances Virginia (Kramer) and James Franklin Boone
(34th) Wedding Anniversary, 1964

George Danker
Experiences as a German Methodist Minister, 1859

Henry John Danker
News Article - Unknown person blows up wrong house, Henry Danker intended target.
Elyria (OH) Evening Telegram, May 25, 1910

Henry John Danker
100th Birthday Approaches
Zanesville (OH) Times Recorder, November 30, 1969

James Henderson Davie
Certificate of Enrollment, Auxiliary Military Police, October 27, 1942

Margaret Douglas Davie
Will and Inventory of the estate, died February 5, 1907, Coatbridge, Scotland

Robert Henderson Davie
United States Citizenship, September 29, 1892, Beaver County, Pennsylvania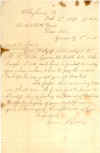 Robert Henderson Davie
Letter dated October 2, 1897 from S. Collins to Robert Davie notifying that his mortgage has been assigned to M.M. Felkner. Also mentions the death of ex-sheriff John D Irvus.

Robert Henderson Davie
Inventory of the estate, died October 26, 1927, New Scottsville, Pennsylvania

James Hart Davie
Certificate of Baptism
March 28, 1937, Riverdale Presbyterian Church, Glenwillard, Pennsylvania

James Hart Davie
Junior High School Diploma
May 29, 1939, Ambridge Junior High School, Ambridge, Pennsylvania

James Henderson Davie
Steve Mesko purchases pumpkins from James Davie, Beaver County (Pennsylvania) Times Weekly, October 15, 1964

Robert Edwin and James Hart Davie
Brothers meet in Germany (WW II)

Bethea Jane (Davie) and Gerald Erwin
45th Wedding Anniversary, The Times, Beaver, Pennsylvania, August 6, 1996

Anna Margaret (Anderson) Hart
84th Birthday - 1941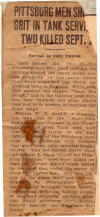 Harry Anderson Hart
News article - December 23 (1918)
Mentions death of Harry Anderson Hart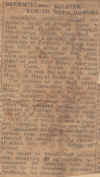 Harry Anderson Hart
News Article regarding burial of Harry Anderson Hart (this would be from 1921 when his body was returned and re-buried in PA)

Harry Anderson Hart
"In Memory" certificate signed by John J. Pershing

Harry Anderson Hart
Original tombstone, Bony Military Cemetery, Bony, Aisne, France

Frank Bryce Kramer
Elected Assistant Vice President of People's First National Bank and Trust Company (Charleroi, Pennsylvania)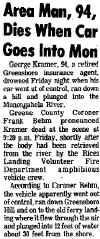 George Reppert Kramer
Drowns After Driving Into River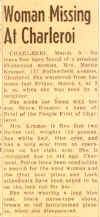 Martha "Mattie" (Elliott) Kramer
Newspaper article the Mattie Kramer is Missing, March 9 (1955)

Theophilus Kramer
Oldest Living Glass Blower in Pennsylvania
Connellsville (PA) Courier, March 1, 1889

Mary Wilma (Wheeler) McFarland
Ordained Deacon, Mt. Washington Presbyterian Church, Farmington, Pennsylvania, January 4, 1987

Carolyn Linda Mentzer
Application for Social Security Card, September 10, 1965

Robert Mentzer
Appointment of Executor, 1964

Hettie Elizabeth (Anderson) Richmond
100th Birthday, The Times, Beaver, Pennsylvania, March 19, 1991
Hettie Elizabeth (Anderson) Richmond
104th Birthday, The Sewickley (PA) Herald, March 22, 1995